Click a square on this map to view detailed maps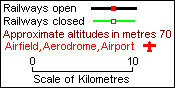 Image produced from the Ordnance Survey Get-a-map service.
Image reproduced with kind permission of Ordnance Survey and Ordnance Survey of Northern Ireland.

Please observe the COPYRIGHT of this website.
Printing and copying should be for personal use only and NOT for commercial purposes.